The Micro-Climates of Grand Canyon
When I first decided to move to northern Arizona in 2009, I had absolutely no intention of staying any longer than it would take me to finish the remaining two years of undergraduate work I had put off well into my mid-twenties.  I grew up on the coast in Massachusetts, with access to a wide variety of outdoor playgrounds.  The deep woods of Maine and the White Mountains in New Hampshire were within just a couple hours drive of the rocky coastline in the backyard.  Each of the four seasons were distinctly experienced, each with their own distinct corresponding adventure pursuit.  I had envisioned living in a climate marked by saguaro cactus, sand, extreme heat, and not much else.  I pictured the whole state as barren desert.  This is pretty much what I had in mind.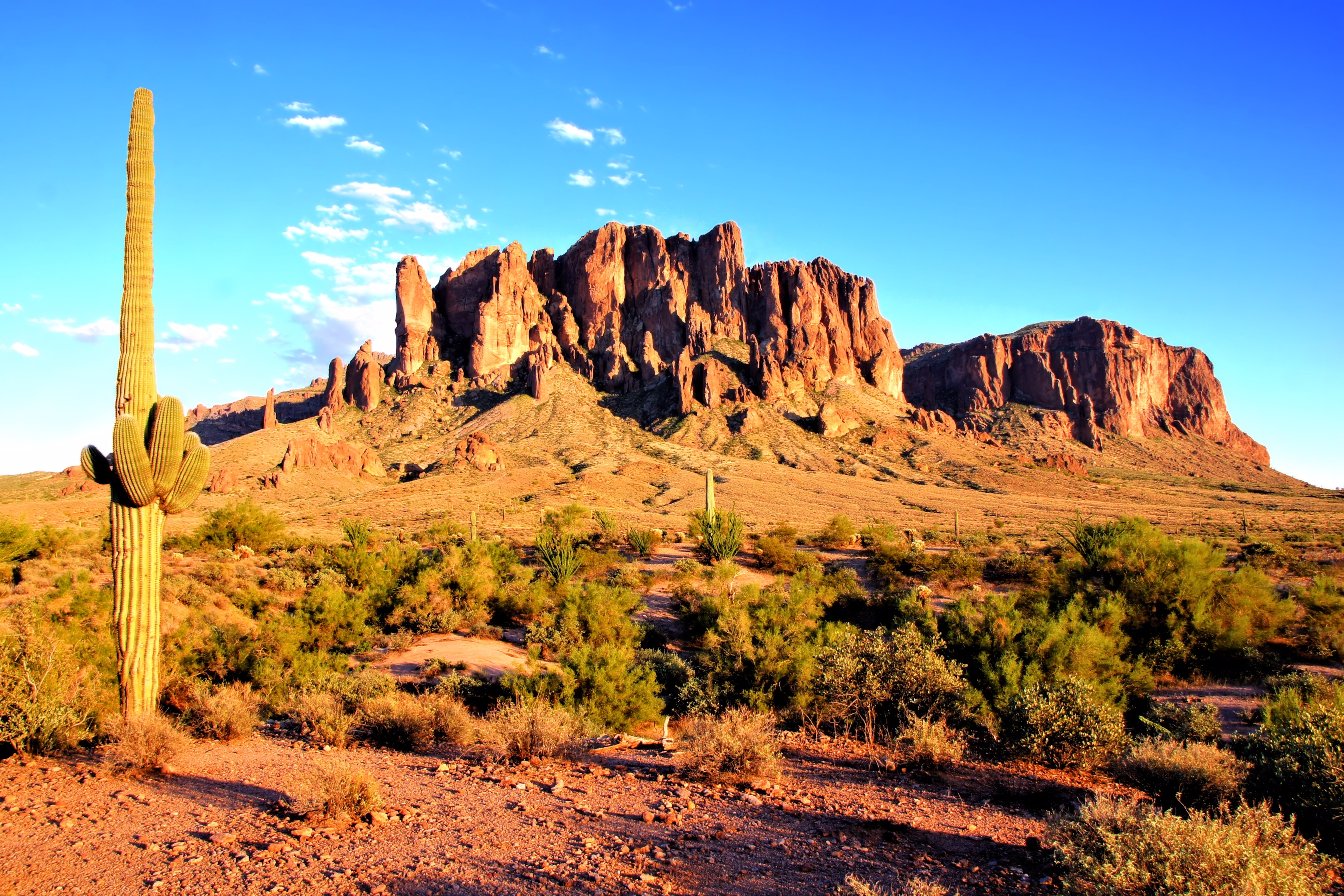 The plan was to get in and get out ASAP.  That was eight years ago.  I soon learned that not all deserts are devoid of life, (nor are they hot and sunny all the time for that matter) and that this state is a whole lot more diverse than I initially gave it credit for.  Arizona surprised me; mostly because, well, it's not all desert at all.  Though the photo above of the Sonoran Desert does represent one of the characteristic life zones in this part of the Southwest, it's not the whole picture.  Elevation in Arizona ranges from 70 to 12,633 feet above sea level, which plays a big role in shaping our climate and ecology.  We've got everything from lower Sonoran Desert to Alpine Tundra in the San Francisco Peaks near Flagstaff, and a full range of semi-arid grasslands and woodlands in between.  This photo is also pretty classic Arizona.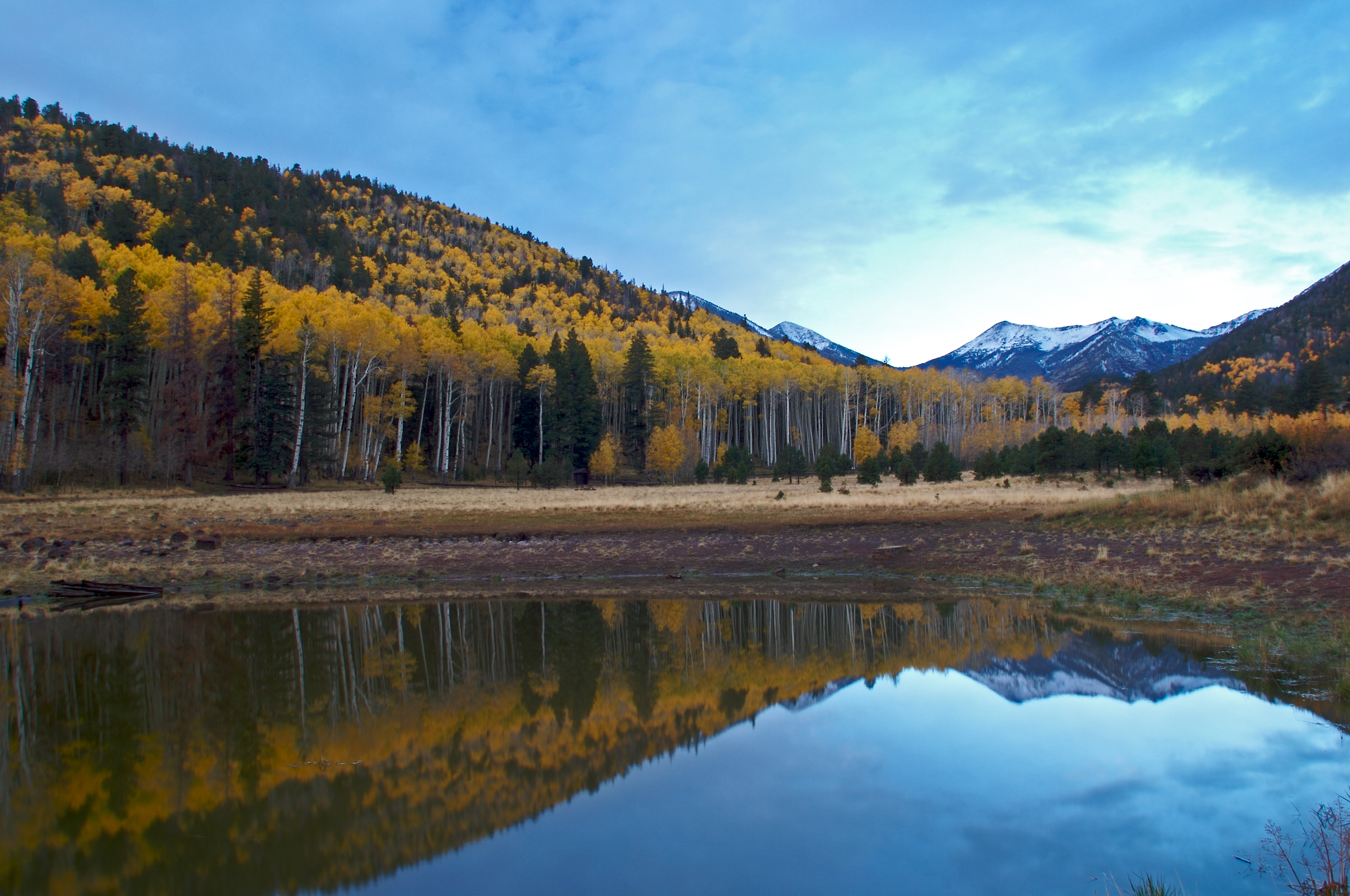 So, what is the weather like?
As you can probably start to imagine, questions like "What's the weather like in Arizona?"  have much more variable answers than some might expect.  That's even more true for Grand Canyon.  Even though the national park covers a relatively small area compared to the rest of the state, the majority of the states elevational range (along with the associated micro-climates) are expressed in the canyon from 2450′ at the Colorado River to 8240′ on the North Rim.  All that is to say–it depends.
At 6910 feet, The South Rim of Grand Canyon gets its fair share of snow through the winter (58 inches, average, annually) and experiences temperatures well below freezing regularly.  The North Rim is even colder, with record annual snowfall near 23 feet!  In summer average highs are in the 80's, with lows cooling down to the pleasant mid-50's.  Phantom Ranch, at 2450 feet, on the other hand experiences pretty mild weather through the winter.  Nighttime lows might get down to freezing, but are often closer to 50 degrees.  Summer heat is scorching with daytime highs topping out well over 100, sometimes as high as 120!  Temperatures at Grand Canyon on the whole differ from river to rim by 20 degrees Fahrenheit on average at any given time of day.  On top of that, because of the low relative humidity, we can see temperature swings of as much as 30 degrees daily for any given location.  In other words, the weather in Grand Canyon can be completely different from one place to another just a few miles away, depending on elevation.
Arizona also experiences bimodal precipitation patterns each year.  Much of the year our weather is as many people picture it, sunny, hot, and dry.  But, we also get two pretty wet periods each year.  The North American monsoon season runs from about July through mid-September and is characterized by heavy afternoon rains and thunderstorms.  Seasonal wind shifts bring warm moist air from the Gulf of Mexico and the Gulf of California into the hot Southwest, causing high levels of evaporation–and the storms result.  We also get a lot of precipitation during the colder winter months, and depending on elevation that falls as rain or snow.  Here's an informative report with more details on this pattern.
So, what does that mean for our trips?
It would be pretty common on a winter backpacking trip to leave South Rim at sunrise in the snow with temps in the high teens, and be on dry ground in the sun at Phantom Ranch by mid-afternoon with temperatures hovering around 70 degrees.  Likewise you could really feasibly depart from Indian Garden in cool, clear weather, and climb the Bright Angel Trail into blustery winter conditions.
Rubicon guides Matt and Zach prepare for a cold drop-in on the South Rim for a private guided December tour.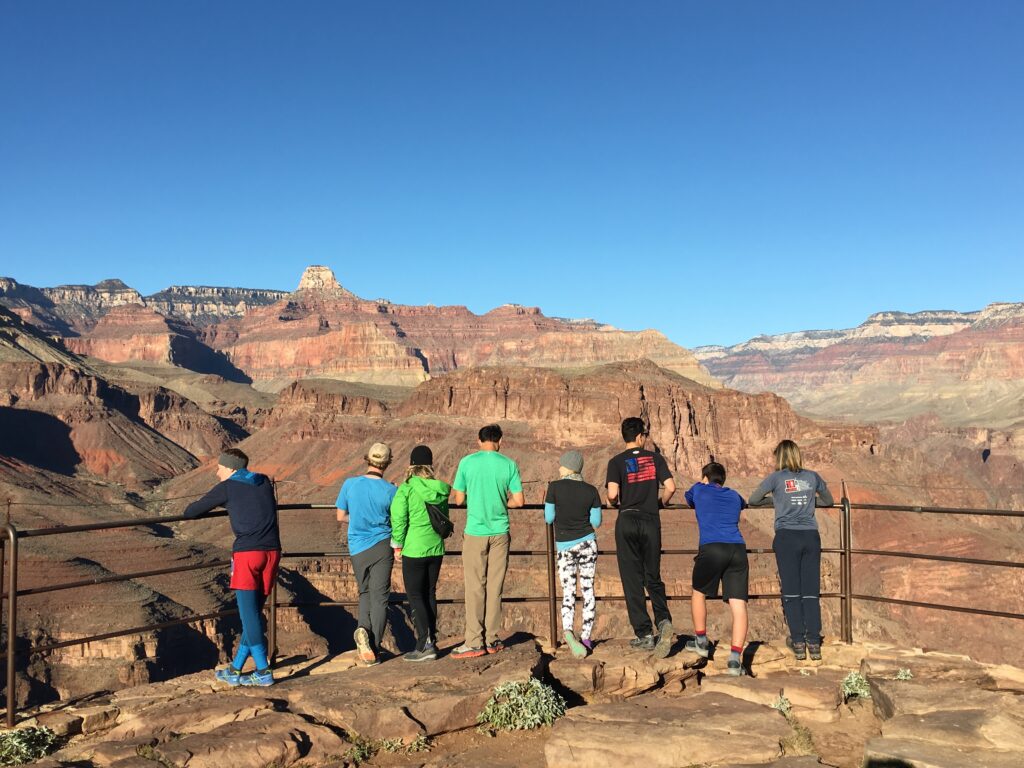 Here's the same tour the next day at Plateau Point, sunny and warm overlooking the Colorado River.  
It might at first seem a little counter-intuitive to plan to go backpacking in winter, but the typical cool and clear weather in the inner canyon is really great for high output physical activity like hiking.  Once you get below the rim it can still be cold, but staying warm isn't usually so difficult.  And, in all reality our winters here are pretty short too.  Summers on the other hand are so hot that it really can be challenging to stay cool enough during intense physical activity.  Throw in the likelihood of daily thunderstorms, and you can see why running canyon trips in the summer months isn't ideal.
The long of the short of it is that fall and early spring are by far the best times to come backpacking in Grand Canyon with us.  October-November and March-April are glorious.  Mid-winter is awesome if maybe slightly more adventurous for hiking.  Summer is blazing, but with rain.  It all depends on your specific location.  You just have to be prepared for a little bit of everything–and to be pleasantly surprised like I was when I found that Arizona isn't all endless sun-scorched dunes and cactus.
Tags: arizona, climate, grand canyon weather, rubicon outdoors