Increasing in popularity in recent years, self guided tours might be considered one of the best unique ways to travel.  They've become especially popular in Europe where there are many companies putting together all sorts of walking and cycling tours.  Our partners over at Alpinehikers have been developing high end self guided hiking tours in the Swiss Alps since the late-nineties.  They've done an exceptional job.  One might say they've become the haute couture of European hiking vacations–maybe not so big a company with tours running to every corner of the globe, but a sort of boutique affair with a very definite house specialty.  We've taken our cues from them:  We know the best of the best, hard to find places, in our little corner of the world.  At Rubicon Outdoors that corner is the American Southwest.
More Than What's in the Guidebooks 
So how do we plan a self guided tour?  Clearly, there are a lot of key things to include in planning a tour in this style.  Probably like most companies, we'll often start with a bunch of research on what's popular in an area–routes to hike, things to see, places to eat, etc., etc.  But that's really just the start for us.  Anyone can grab a trail map or a guide book and find most of that information without our help.  It's the next step in the process that really gets us excited, and brings things up a notch.  After we've put together a rough sketch of what we think a tour should look like, a couple of us will go out to recon the trip on our own.  We'll go stay at the hotels and have meals at the restaurants we're recommending to really get a feel for what they're like.  Most importantly, we go out on each hike to ensure not only that our trail notes are accurate and clear, but that the hike is really worth doing.
Any web search will reveal some of the most popular hikes for a given area, and there's a ton of trail out there.  But it's not always the best option.  Take the West Fork Trail in Oak Creek for example:  This hike frequently tops the list of best hikes in Sedona.  I had never been, so I took my visiting father in law out to hike it last weekend.  It's a three-mile-each-way rolling out-and-back that winds through towering cottonwoods and ponderosa pine, criss-crosses Oak Creek past huge blocks of red sandstone.  The route itself was indeed awesome.  But, because it's fairly well-known as the "best hike in Sedona" it was crowded.  And for that reason, I probably wouldn't go back, and would hesitate to send clients there.  Since most of us at Rubicon got our start in the outdoor industry as guides and outdoor educators, we love being out in the back country and we love to travel, and we've hiked in a lot of really spectacular places over the years; so if I get excited about returning to a section of trail, then there's a good chance it's really going to be worth sending folks there.  Personally, I really love travelling that way and it's usually part of the litmus test for whether or not a new itinerary is up to par.  If I want to keep going back, it's probably a good bet setting up as a self guided route.
When I'm out on one of these new routes, I'm usually looking at things through a guide's perspective.  Since there's a good chance I'll end up leading a trip to these areas in the future, I'm gathering all the details I'd want to make a guided trip run smoothly.  Those refined notes create the bulk of our self guided tour packets.  It's that unique professional perspective that makes signing up for a self guided tour different than just picking up a local guide book and going on your own.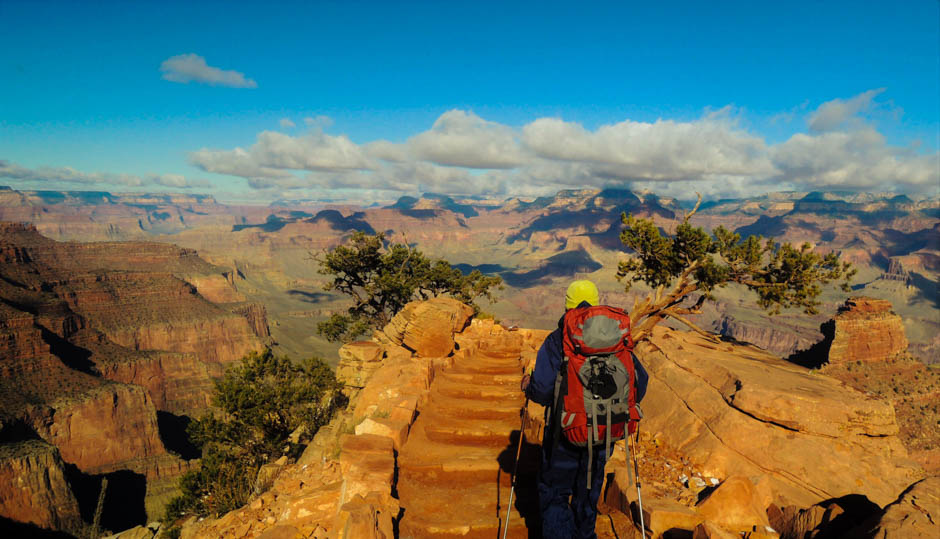 The Necessary Experience
While there isn't any real pre-qualification required to sign up for a self guided tour, most folks will find a little prior experience useful.  This will vary depending on which tour you choose.  Our lodge-based tours require the least amount of experience.  This might seem overly obvious, but most hikers will want to have some experience walking on trail to get the most out of their trip.  If you've never set foot on trail on your own before, you might opt for a guided trip instead.  Some basic map reading skill and knowing how to read a compass might come in handy, but you don't need to be an expert.  If you can navigate to a friends house by reading a road map and following written directions, you'll probably do just fine.  Knowing your personal preferences for how to layer clothing and dress comfortably, as well as what you like to eat on trail is great, but we'll also give you suggestions for that in the tour packet.
Our self guided Grand Canyon backpacking trips are more challenging than our lodge-based tours, and require a little more experience.  If you've never gone on an overnight backpacking trip before, this probably isn't the best way to start out.  Because of the remoteness of camps and difficult terrain in Grand Canyon, someone in your party should be experienced in back country travel, at the very least.  Skills like knowing how to effectively set up shelters cooking with a backpacking stove, and keeping the contents of a pack dry in wet weather are critical here.  We can certainly help with all these details, but it shouldn't be your first rodeo, so to speak.
Of course when we're in the office we're always happy to talk with you about what your experience is like, and help you decide which tour is right for your skill level.  Don't hesitate to shoot us an email or give a call with questions.
Benefits of Going Self Guided
Some of the benefits of self guided tours are readily apparent.  The itineraries and departure dates are often more flexible than with guided tours, and the costs are usually significantly lower.  We recognize that most people have relatively precious little time to travel and want to make sure they're getting the most out of their vacations; and, furthermore, may not always have the time to do all the research and planning that goes into a trip.  But, many of those folks are also the types who prefer to travel more independently and be more self-sufficient once they get there.  Not everyone wants a guide to follow along the way.
Indeed that may be the most obvious difference from a guided trip–you won't have a guide travelling with you.  What's the benefit?  If you're anything like me (in life in general, but on vacation especially) then you likely want the utmost freedom to follow your whim.  So why not just go on your own then?  I'll give you another example:  Last spring I went out on a long five-hour run to check out a hike on which I would later potentially bring clients.  One of our other guides had done it before, so she gave me a bunch of info ahead of time. We went over the map together.  The route was all planned out, I knew pretty much exactly where to go, what I was looking for, and what my options were along the way.  I just had to go do it.  Two hours in, I found myself at the base of looming snow-capped peaks, near an empty remote hut along a glacial stream laying in the sun on a warm granite slab.  I lingered there to soak in the rays, probably for most of an hour. I may have even fallen asleep.  I wandered around and took some photos.  And, when my legs felt like they were up for it I started on the trail again.  If I'd been on a guided hike of that area, or even had I gone with that co-worker, the afternoon most definitely would not have unfolded that way.  Not wanting to slow others down, I would have just pressed on.  And of course, this example is just a cross section of what an entire self guided tour might look like–but you get the idea.  Sometimes, the freedom to follow your whim is just the right way to dig in to a place.  And, part of having that freedom is having a lot of the information already.  That's what self guided tours are all about.
They're the compromise between the structured, scheduled guided tour and completely flying solo.  The planning has already been done: the route has been tried and tested, the reservations have been made, and the transfers have been arranged.  All of the potentially anxiety-producing details associated with travel have been taken care of by an expert.  You just have to go do it.