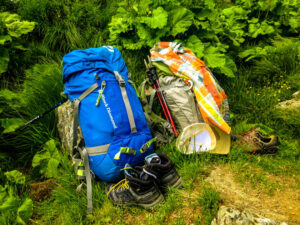 Depending on which type of tour you choose to sign up for with Rubicon Outdoors, the amount and type of equipment you will need will vary quite a bit.  Some items like clothing and footwear will be mostly the same whether you're doing a lodge-based or backpacking tour.  Other items you'll only need for a backpacking trip, and some of those we'll provide for you.  Below you'll find packing suggestions for each type of tour we offer, including personal items that you should expect to bring with you, as well as an outline of specialized equipment that we'll provide on your tour.  Many of our guides also work on staff here in our Prescott office and are happy to chat with you about their personal preferences and gear recommendations, so feel free to shoot us an email or phone call with questions.  Finally, don't forget to check out our blog as we're always adding new stories and information about what we're using and doing in the field that we think might be useful to our clients.
Clothing:  Generally speaking we almost always use synthetic and wool materials for the clothing we hike in.  We also highly suggest that you bring clothing that you can layer to add just the right amount of insulation you need.  Some sort of lightweight nylon/polyester blend pants or shorts will breath well, allow the most freedom of movement and comfort on the trail, and offer good sun protection without being overly warm while active.  If it rains, they'll also dry much faster than cotton.  Same goes for shirts:  loose fitting, lightweight nylon blend or merino wool tops are a great choice for active wear because of their breathability.  We also suggest that our clients bring a couple of warmer items for hikes that may go into the evening or for hanging out in camp when things cool off after sunset.  A mid weight fleece base layer like this one from Smartwool and a lightweight down or synthetic insulated jacket like this from Patagonia are great choices.  A good set of rain gear is a must, especially for our backpacking tours; Gore-tex type rain jackets perform really well and are often worth the extra cost (they can be expensive).  A warm fleece or wool hat will be great on cooler days, and for those warmer sunny days brimmed sunhats will be greatly appreciated.
Footwear:  A good sturdy pair of hiking boots or shoes is our top recommendation for all of our tours.  For our lodge-based tours and Prescott Adventure day trips a lighter hiking shoe will be fine for most people unless you know you have weaker ankles.  For folks that have known ankle trouble, less experience hiking, or are signed up for our backpacking tours we highly recommend a high-quality pair of high-topped boots; these will offer the most ankle support and comfort while carrying a heavier pack.  We spend a lot of time in our boots, and Salewa is one of our favorite companies; check out the photo at the top of this page for examples of their products in both styles.  Good socks are also crucial for comfortable feet, and a well-cushioned pair of wool hiking socks will keep your feet dry and blister-free.  Darn Tough makes great wool socks here in the U.S and has a really great warranty policy.
Other Items:  Staying hydrated on trail will be of the utmost importance especially in such a dry climate as the Southwest.  We suggest that everyone has the capacity to carry two liters of water on their own.  Nalgene or Kleen Kanteen type hard water bottles with a screw top work best while sport-top, squeeze type soft bottles tend to leak.  Hydration bladders that allow you to drink without taking your pack off can also be a great option, but keep in mind they are more prone to puncture and/or leaking and require some extra care in use.  MSR makes some of the most sturdy available.  In addition to protective clothing for sun protection, sunscreen and sunglasses are highly recommended.  For day trips and lodge-based tours you should bring a small daypack that is about 25-35 liters in capacity.  This will comfortably allow you to carry an extra warm layer, rain gear, water, personal items, snacks and lunch.  Although not entirely necessary, packs that have some rigid internal frame, hip belt, and chest strap have the most support and tend to be the most comfortable to wear all day.  Lastly don't forget the camera, we're sure you'll want to take plenty of pictures!
Climbing:  For our climbing day-trips you should plan to bring a small day pack with all of the personal items and most of the clothing described above.  A warm layer is a good idea since it can be cooler in the shade of the crags depending on the time of day.  Otherwise we'll provide all the necessary technical equipment:  ropes, climbing shoes, harnesses, helmets, and hardware will all be provided by us.  All of our climbing guides are AMGA certified and thoroughly track and inspect all of our equipment to make sure it is in the absolute safest condition.
Backpacking:  In order to be well-prepared and comfortable in the backcountry, our backpacking trips require perhaps the most amount of gear.  For our guided and private-guided backpacking options we'll provide all the necessary items like shelters, stoves and cook gear and dishes, as well as sleeping bags, pads, and backpacks.  For self-guided backpacking tours you can opt to use your own gear, or rent ours for a small additional fee.
You should plan to bring all the clothing items as described above.  We'd suggest including 2-3 pairs of good socks, an extra mid-weight warm layer, long underwear, and heavier down jacket for winter trips in the canyon.  Planning out your clothing for a backpacking trip is all about finding the right balance between having all the right items, and not having too many extras.  Our guides try to plan to have two sets of clothing:  one lightweight set to hike in that gets dirty, wet, sweaty etc., and one warmer set for camp that stays dry and clean(ish).  In the absolute coldest scenario, you should be able to layer all of your clothing for maximum insulation.  Much more than that and we find that you're just carrying around a bunch of unnecessary weight.